---
Mixmaster Precise shows
---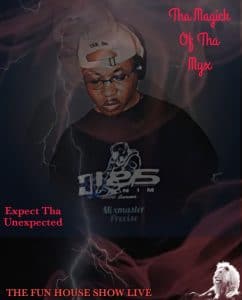 Hailing from Philadelphia, Mixmaster Precise, started his venture into music quite peculiarly. While most DJ's would state their venture started on turntables of some types, this is not the case here. Mixmaster Precise takes us back to his grass roots days, and how he started his mix prowess on an am/fm cassette radio and a record player, later moving onward to a double cassette boom box doing pause button mixes that gave no indication that turntables hadn't been used.
Entering the military, he continued satisfying listeners in nightclubs, private events, and was invited to travel with the USO.
Moving years ahead, Mixmaster Precise can be found on multiple networks doing his Expect The Unexpected shows, called The Fun House Show Live, in which he utilizes a multitude of house music genres, ranging from gospel, classics, house, techno, South African, UK garage, & more. Having 8 distinctly different shows, jazz, & newly added, gospel are included.
His shows, Found on various networks, include, DFM Dance, FTM RADIO, London's Energy Radio, African FM, SA Commuter Radio, & more, Hildene Radio. His weekly shows are said to promote positivite inspiration & uplift.
---